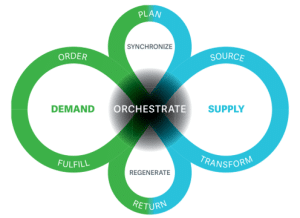 WHAT IS SCOR DS?
The Supply Chain Operations Reference (SCOR) model is at the core of everything we do. It is the only comprehensive, universally accepted and open-access supply chain standard used by companies large and small. SCOR gives organizations the ability to assess and improve their company's supply chain, leading directly to improved business performance.
Use SCOR to analyze, measure and improve your supply chain
By combining elements of business process engineering, leading practices, benchmarking, people skills and a variety of metrics into a succinct framework, SCOR makes it possible to pinpoint core process areas that need optimization.
The value of SCOR
When our clients use SCOR as an end-to-end process blueprint, they not only achieve a remarkable ROI, but other key indices improve as well. Typical results include:
2 to 6 times ROI in the first year
Operating income improvement to 3% of sales
Better return on assets for fixed-asset technology investments
30% faster digital transformation project implementations
Reduction in information technology operating expenses
What's Included
Instructor led training hours split over multiple virtual sessions covering the SCOR DS Framework and implementation tools.
1 self paced introduction to SCOR online course
SCOR DS APICS handbook and reference guide
Price
Current ASCM Members: $1499
New ASCM Members: $1599
Per ASCM policy, exam credits, learning system access, instructor training or any other components cannot be returned, refunded or transferred. Unchained value does not guarantee exam results, however if an exam retake is required you are eligible for one exam retake within 6 months of the first exam date. All courses require each attendee to have their own computer and mobile phone with internet access.
Minimum of 5 learners and maximum of 25 learners per course.  If course minimum is not met, Unchained Value reserves the right to cancel with full refund or reschedule.